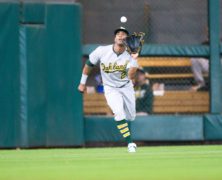 Outfielders provide big skill, but lots of health risk
The top of the outfield food chain is similar to last year – lots of skill, lots of risk. There is no shortage of power, good average and some nice extreme speed options. But seven of the top 10 players have injury risk, and five of those seven are rated as major risks.
Dropping to the next tier opens things up a bit, but more injury risk returns soon after that. It's a mine field. Be careful.
Here are the BABS ratings for the outfielders who will potentially provide some positive value to your team:
This content is restricted to subscribers